David Fardon, M.D.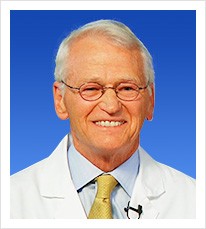 Spine, Back and Neck
Assistant Professor, Rush University Medical Center Appointments
BIOGRAPHY
In 2008, Dr. Fardon came to Midwest Orthopaedics at Rush from Southeastern Orthopaedics, where he led a distinguished career in clinical orthopedic medicine, spinal surgery, academic pursuit, and national leadership. He has authored numerous scientific articles, textbook chapters, and books addressing disorders related to the spine, including coeditorship of the prestigious Orthopaedic Knowledge Update for Spine II. This academic volume, published by the American Academy of Orthopaedic Surgery and the North American Spine Society, is used as a core curriculum text for graduate training in spine.
A medical graduate of the Kansas University Medical School, Dr. Fardon completed his orthopedic residency at the University of Missouri Medical Center. As a testament to his standing among fellow physicians, Dr. Fardon has been named by his peers to "Best Doctors in America" for each of the past 14 years. Only 5% of the doctors in America earn a spot on the Best Doctors in America list. He is a member of the prestigious American Orthopaedic Association, and has served on the editorial boards of five major orthopedic, spine-related journals.
In 1996 and 1997, Dr. Fardon was President of the North American Spine Society, the world's largest organization of board certified spine-care specialists. In 2000, the society awarded him with its Selby Award for Outstanding Contributions to Spine Care. Dr. Fardon participated in the North American Spine Society's Clinical Guidelines and was a faculty presenter at the American Academy of Disability Examining Physicians course on AMA Guidelines.
In 2006 Dr. Fardon was certified by the American Board of Disability Examiners. He received his recertification as an Independent Medical Examiner by the American Board of Disability Examiners in 2011. Dr. Fardon completed 15 hours of CME training by ABIME on AMA Guides to the Evaluation of Permanent Impairment, 6th Edition, with Review of Principles of Disability Assessment on August 13-14, 2011.
In addition to his scientific writing, Dr. Fardon has published three books for the general public on neck care, back care, and osteoporosis and has authored numerous commentaries on artistic and social issues related to the spine. A runner (ten marathons) and occasional player of golf and tennis, he enjoys most spending his leisure time with his wife, Judy, their four children and spouses, and seven grandchildren, and his dog, Gus.
SELECTED PUBLICATIONS & PRESENTATIONS
Fardon DF, Williams AL, Dohring EJ, Murtagh FR, Gabriel Rothman SL, Sze GK.
Lumbar disc nomenclature: version 2.0: recommendations of the combined task forces of the North American Spine Society, the American Society of Spine Radiology, and the American Society of Neuroradiology. Spine (Phila Pa 1976). 2014 Nov 15;39(24):E1448-65. doi: 10.1097/BRS.0b013e3182a8866d. Review. PMID:23970106
Fardon DF.From advanced imaging... When incidental findings masquerade as spinal pathology. Spine J. 2005 Mar-Apr;5(2):223-4. PMID: 15795970
Fardon DF, Simmons JD. When advanced techniques are needed to confirm a commonplace diagnosis. Spine J. 2005 Jan-Feb;5(1):117.PMID:15739281
Fardon D. From the dermatology clinic...postherpetic neuralgia, in which the source of radiculopathy is revealed by examination of the skin. Spine J. 2002 Jan-Feb;2(1):85. PMID:14598807
Lecture Presentation/Faculty: American Academy of Disability Examining Physicians course on AMA Guidelines to Permanent Impairment, "The Spine", August 26, 2006, Knoxville, Tennessee.
"Lumbar Disc Surgery," Core Curriculum presentation, Rush University Orthopaedic Department, June 21, 2009
"Controversial Topics in Spine Care," North American Spine Society, 25th Annual Meeting, Orlando, Florida, 2010
AWARDS & HONORS
Selby Award for Outstanding Contributions to Spine Care through the North American Spine Society, 2000
Listed in Best Doctors in America: 2000, 2001, 2002, 2003, 2004, 2005, 2006, 2007, 2008, 2009, 2010, 2011, 2012
PRACTICE EMPHASIS
Back and Neck Evaluation and Treatment
RESEARCH INTERESTS
Diagnosis of spine-related disorders
Nonsurgical care of spinal disorders
Evaluation of surgical treatment options
Evaluation of impairment
DISCLOSURES
CLINICAL SUPPORT STAFF
Angela Price (AA)
Elisa Villarreal (MA)
EDUCATION / CERTIFICATIONS
Medical School


University of Kansas

Residency


University of Missouri Medical Center

Board Certification


American Board of Orthopaedic Surgery American Board of Independent Medical Examiners
PHYSICIAN OFFICE LOCATIONS
Orthopedic Building at Rush University Medical Center
1611 West Harrison Street
Chicago, Illinois 60612