Edward J. Goldberg, M.D.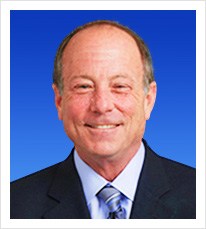 Spine, Back and Neck
Assistant Professor, Rush University Medical Center
BIOGRAPHY
Dr. Goldberg concentrates his practice at Rush University Medical Center on the treatment of spinal injuries and diseases of the cervical, thoracic and lumbar spine and uses the latest minimally invasive surgical techniques to treat patients.
He has been an attending spine surgeon at Rush University Medical Center for 27 years. Dr. Goldberg is currently an assistant professor in the Department of Orthopedic Surgery at Rush.
Certified by the American Board of Orthopaedic Surgeons in 1992, Dr. Goldberg has fellowships in both lumbar spine surgery from Rush and cervical spine surgery from the University of Miami and University of Marseilles in France. He is a member of the American Academy of Orthopaedic Surgeons, Phi Beta Kappa Society, Summa Cum Laude Society of Tulane University, and the North American Spine Society. He was selected into the "Leading Physicians of the World Society."
Dr. Goldberg is widely respected by attorneys and arbitrators for his treatment of workers' compensation injuries. He ranks in the top 10% nationally for providers who have achieved the very highest degree of rapport with their patients according to Press Ganey survey results which have been compared to UHC national benchmarks.
For more information about Dr. Goldberg and the treatment of spinal conditions involving the cervical, thoracic, and lumbar spine, visit his website at www.chicagospinedoc.com or www.egoldbergspinedoc.com.
Born in Chicago, Dr. Goldberg enjoys golf, theater, and travel.
SELECTED PUBLICATIONS & PRESENTATIONS
Singh K, Phillips FM, Park DK, Pelton MA, An HS, Goldberg EJ. Factors affecting reoperations after anterior cervical discectomy and fusion within and outside of a Federal Drug Administration investigational device exemption cervical disc replacement trial.Spine J. 2012 May;12(5):372-8. doi: 10.1016/j.spinee.2012.02.005. Epub 2012 Mar 16. PMID: 22425784
Samartzis D, Marco RA, Jenis LG, Khanna N, Banco RJ, Goldberg EJ, An HS. Characterization of graft subsidence in anterior cervical discectomy and fusion with rigid anterior plate fixation.Am J Orthop (Belle Mead NJ). 2007 Aug;36(8):421-7. PMID:17849027
Manson NA, Goldberg EJ, Andersson GB. Sexual dimorphism in degenerative disorders of the spine. Orthop Clin North Am. 2006 Oct;37(4):549-53. Review. PMID:17141011
Singh K, Samartzis D, Vaccaro AR, Nassr A, Andersson GB, Yoon ST, Phillips FM, Goldberg EJ, An HS. Congenital lumbar spinal stenosis: a prospective, control-matched, cohort radiographic analysis. Spine J. 2005 Nov-Dec;5(6):615-22. PMID:16291100
Samartzis D, Shen FH, Goldberg EJ, An HS. Is autograft the gold standard in achieving radiographic fusion in one-level anterior cervical discectomy and fusion with rigid anterior plate fixation?Spine (Phila Pa 1976). 2005 Aug 1;30(15):1756-61.
Factor affecting reoperation after ACDF within and outside of an FDA IDE cervical disc replacement trial. Cervical Spine Research Society, San Diego, CA, December 2008.
AWARDS & HONORS
Massey TM and Goldberg EJ: The effect of external rotational deformity on the tibiotalar contact area. 3rd Place in the American Academy of Orthopaedic Surgeons' Resident Trauma Competition, 1988.
Selected Best Doctors, Inc 2011-2012 Leaders in Spine Surgery to Know
#1 in Quality and Satisfaction Surveys with patients seen in clinic at Midwest Orthopaedics at Rush University Medical Center
PRACTICE EMPHASIS
Spine Surgery (cervical and lumbar)
SPECIAL PROCEDURES
Motion preservation techniques (disc replacements)
Cervical decompressions and fusions with instrumentation
Anterior lumbar fusions
Minimally invasive spinal surgery
Lumbar decompressions and fusions with instrumentation
Revision surgery (cervical and lumbar spine)
RESEARCH INTERESTS
Investigation in cervical disc replacements
Outcome studies of cervical and lumbar decompressions and fusions
Spine Patient Outcomes Research Trial
DISCLOSURES
CLINICAL SUPPORT STAFF
Tonika Anderson (AA)
Katherine Werner (PA)
Raquel Gonzalez (MA)
EDUCATION / CERTIFICATIONS
Medical School


University of Illinois College of Medicine

Residency


University of Illinois Hospitals and Clinics, Chicago, IL - Orthopaedic Surgery

Fellowship


Rush University Medical Center, Chicago, IL - Spine Surgery University of Miami, Miami, FL - Cervical Spine Surgery
University of Marseilles, Marseilles, France - Cervical Spine Surgery

Board Certification


Orthopaedic Surgery
HOSPITAL / SURGICAL LOCATIONS
Gold Coast Surgicenter
845 N. Michigan Ave, Suite 985W
Chicago, IL 60611
Rush University Medical Center
1653 W. Congress Parkway
Chicago, IL 60612
PHYSICIAN OFFICE LOCATIONS
Orthopedic Building at Rush University Medical Center
1611 West Harrison Street
Chicago, Illinois 60612